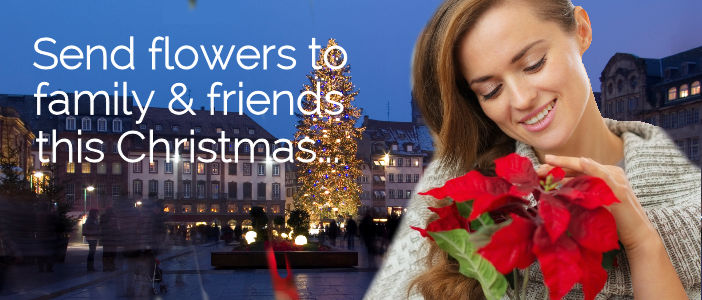 Add Christmas Cheer with Flowers delivered by a local florist
While you may be thinking more along the lines of traditional decorations, such as lights and trees, what better way to add a little Christmas cheer than with flowers? With beautiful Christmas colours, a
floral arrangement is the perfect addition to any home's décor. By sending flowers this holiday season, you are not only sending your love, but an amazing addition to your friend or loved one's Christmas decorations. Nothing lights up a home better than a stunning Christmas floral arrangement.

Choose the Perfect Arrangement

With Christmas floral arrangements, the sky is the limit. Choose a simple bouquet of poinsettias and holly or select something bigger with a table centre piece full of Christmas colours, such as red, gold, green and white. When you choose an arrangement, look for holly and mistletoe to really add to the Christmas spirit. For a perfect arrangement for your loved ones in South Africa, just think festive and look for something that really showcases both you and your loved one's joy of Christmas.

Arrange Christmas Delivery in Time

Though Christmas delivery in South Africa is possible, it is important to arrange for delivery as early as you can. Direct2florist will help you find florists in the area who are able to deliver whenever you need them. For best results, it is recommended that you order before the festive period begins to guarantee delivery around Christmas Day. Some florists will create your arrangement and actually deliver on Christmas Day in South Africa if you order by a certain time. Whether you wait until the last minute or plan to order early, Direct2florist will help you find the right florist.

Christmas Delivery in South Africa is Easy

With Direct2florist, Christmas delivery in South Africa is easy. You do not have to be a scrooge just because you are miles away. Let Direct2florist help you find florists in the area. You can choose from a wide variety of Christmas-themed arrangements, both large and small, from multiple florists. You are sure to find a beautiful arrangement that will show your loved ones how much you care and wish you were there. Ordering and delivery is quick and easy. Choose a florist, select an arrangement and tell them when you want it delivered. Direct2florist handles everything for you. By choosing a florist nearby, you can be certain that your flowers will arrive fresh and as beautiful as possible. The fresher your flowers, the longer they will last.